Special features
| | |
| --- | --- |
| | KNEE BRACE |
| | 1st CLASS MEDICAL PRODUCT |
| | CAST REPLACEMENT |
| | INNOVATIVE |
| | UNIVERSAL SIZE |
| | FULL RANGE OF ADJUSTMENT |
Purpose of use
knee dislocation
knee sprain
knee instability
ACL, MCL and LCL injuries
meniscus tears and injuries
patellar tendonitis
Osgood-Schlatter Disease
Sinding-Larsen-Johansson Disease
Juvenile Rheumatoid Arthritis (JRA)
non-specific osteitis
osteonecrosis
knee ligaments reconstruction
other surgical procedures
Pediatric knee injuries
The number of parents encouraging children to physical activity. It is for our health and prevents against the obesity, diabetes and other serious conditions. Unfortunately, sometimes the physical activity may lead into knee injury.
Top 5 knee injuries in kids and teens are sprains, strains, cartilage tears, fractures and tendonitis. Fractures are less common but daily physical activity and overused of the knee joint may result in tendonitis. The treatment of the knee injury bases on immobilization, joint rest and physical therapy. Kid's knee immobilization is not a simple task. Kids sometimes are not aware of their health condition. Due to this fact, the pediatric knee brace should be as safe and effective as possible. To do that, we highly recommend our universal knee brace FIX-KD-14.
Product's description
Po-op knee brace FIX-KD-14 provides perfect knee immobilization. It consists of two anatomic shaped splints 1R orthodesign made of weight-light aluminum.
These splints has the body's shape and provides excellent knee stabilization. They are equipped with small drop lock with range of motion adjustment in every 15 degrees. The drop lock is extremely small, perfect for kid's sizes. It is also safe, because has special plastic cover which reduces the risk of involuntary changes of adjusted ROM. It's highly recommended in case of children as they can be not totally aware of their conditions.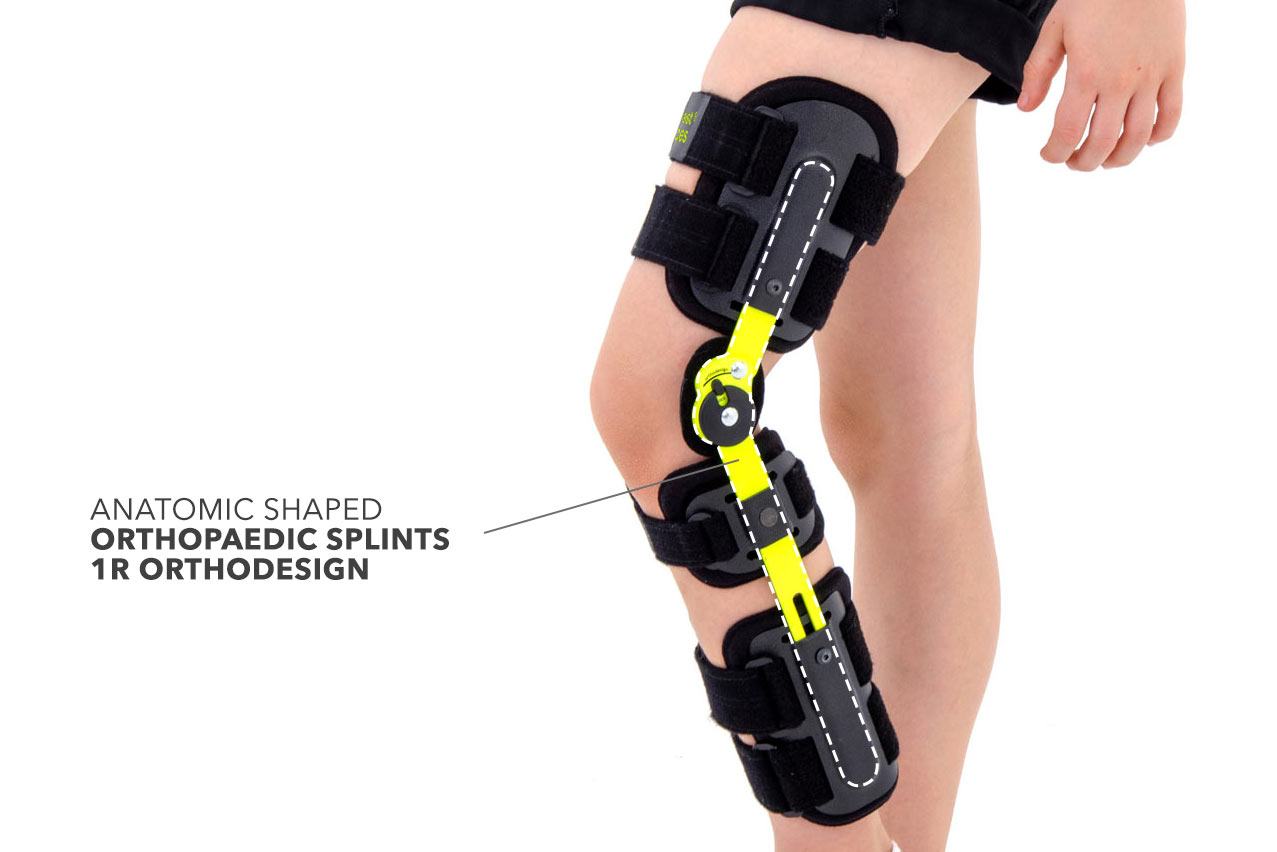 Plastic elements of knee brace FIX-KD-14 are initially shaped and extremely light. The lining is made of high quality soft foam Active3D™ for perfect comfort of use.
Active3D™ is thermoformed fabric made of special foamed, cell-closed designed material. It reduces the pressure on the body or any abrasions made by orthopaedic stays and aluminum splints. It is fully waterproof fabric and does not absorb sweat. It's easy to clean. Due to its features, the fabric is an excellent product for making medical orthopaedic braces and orthoses. ACTIVE 3D™ has various external self-gripping layers. Our material has special, thermoformed properties and may be shaped according to the functional goals of the final braces.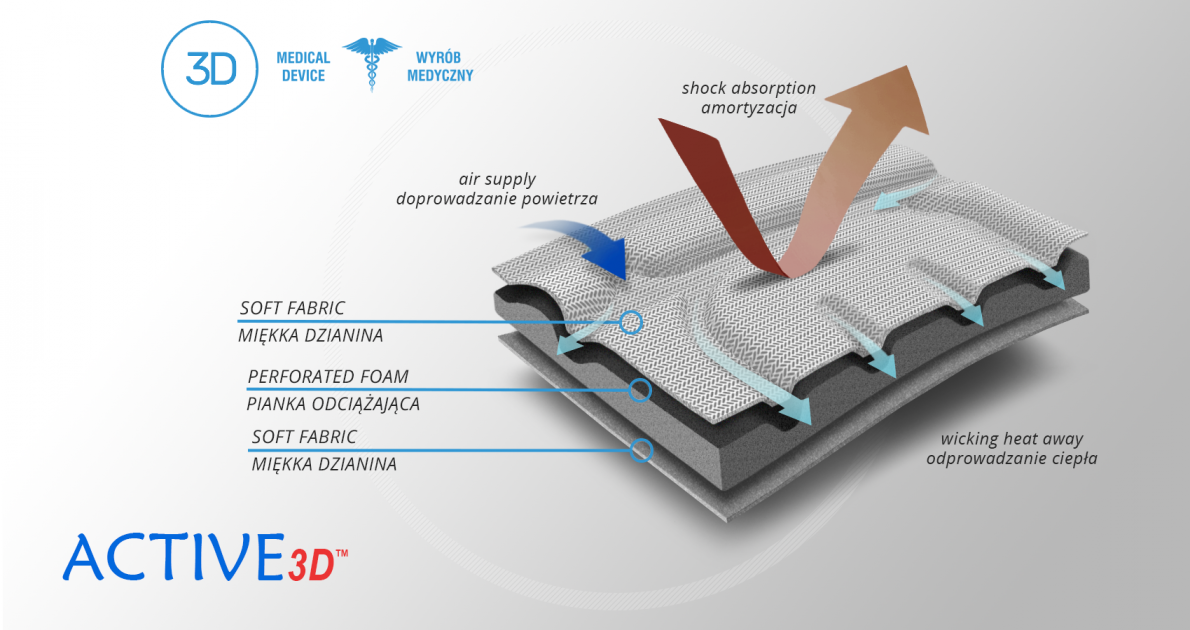 What is more, the lining reduces the pressure on bone prominent, improving the comfort of wearing.
Our pediatric knee brace provides wide range of circumferential adjustment. Comfort Velcro straps ensure smooth compression and custom fitting.
What's the most important, our pediatric knee brace FIX-KD-14 is universal size product. Wide range of length adjustment in the calf and thigh part provides custom fitting. This solution allows our FIX-KD-14 brace to 'grow up' with the kid and due to this fact it is recommended in case of chronic knee illnesses. What's more, the universal size means reduction the stock because our brace will fit perfect to almost children.
Available sizes
Size
(A) Thigh circumference 10 cm above the center of the patella
(B) Calf circumference 10 cm below the center of the patella
(C) Distance between knee joint interstice and groin
(D) Distance between knee joint interstice and shin
How to measure
Universal
min 20 –
max 37 cm
min 15 –
max 31 cm
min 22 –
max 27 cm
min 26 –
max 35 cm
Total length of the product: 43 cm
Right and left knee specific.