| | |
| --- | --- |
| | ELBOW BRACE |
| | 1st CLASS MEDICAL PRODUCT |
| | WATERPROOF |
| | DOUBLE-SIDED |
| | FULL RANGE OF ADJUSTMENT |
Cerebral palsy
Cerebral palsy is a neurological condition and presents many symptoms. One of them is flexion pattern of upper extremity. Muscle imbalance and malfunction of central nervous system increase the flexion pattern of the whole body. Unfortunately, it results in many complications such as poor range of motion, limited self-activities or muscles contractures. Due to this fact, we are trying to improve alignment in therapy. It can be achieve with our professional paediatric elbow splint FIX-KG-16.
Purpose of use
• flexion pattern (CP)
• elbow strain/sprain
• elbow dislocation
• elbow fracturen
• elbow contusions
• elbow inflammation
• po-op immobilization
• cleft lip and palate surgery
• for keeping a child's thumb out of the mouth or the hands away from the face
• Ulnar Tunnel Syndrome / Ulnar Nerve Entrapment / Elbow Neuropathy
Product's description
Paediatric elbow splint FIX-KG-16 is a professional medical deivce offering many options for use:
orthopaedic immobilizer after elbow injuries (fractures, sprains)
neurological elbow brace promoting joint alignment
paediatric elbow splint preventing face or mouth touching after cleft palate repair surgery
Paediatric elbow splint FIX-KG-16 is anatomic shaped and made of innovative fabric AeroSpace III™. Wrap around straps are made of innovative fabric UniTape™. Straps keep the brace on the elbow and prevent against its sliding down.
Paediatric elbow splint FIX-KG-16 is a professional stabilizer offering elbow extension and possibility of keeping it in the required therapeutical position.
Such wide of functionality allows to use our paediatric brace in case of elbow contractures as a passive result of manual therapy (elbow muscle stretching).
Paediatric elbow splint FIX-KG-16 keeps the elbow in the required therapeutical position and prevents against involuntary elbow movement. It's universal medical brace which can be used for orthopaedic (elbow fracture, sprain), neurology (flexion pattern) or surgery purposes.
The elbow splint is available in 2 sizes and fits for both elbows.
AeroSpace III™ is an innovative new generation raw material. It is a distance elastic 3D knitted fabric consisting of two layers of facings and an interlacing that creates the appropriate thickness of the raw material and has relieving properties. The knitwear is made of the highest quality polyester yarn - guaranteeing high mechanical strength and spandex ensuring its proper flexibility. AeroSpaceIII ™ has an external and internal self-gripping layer what makes it easy to adjust each product to individual patient's needs. This material is characterized by a very low weight, high flexibility and a very large openwork structure, allowing for very easy drainage of sweat from the body and bringing fresh air to the skin. Products made of this raw material are neutral to the secured joint, do not heat or cool it, but ensure its proper compression and fit and reduce muscle vibrations generated during physical exertion. Its thickness and 3D structure perfectly relieves the orthopedic splints, stays or other elements mounted on the product and guarantees velvety softness to the touch.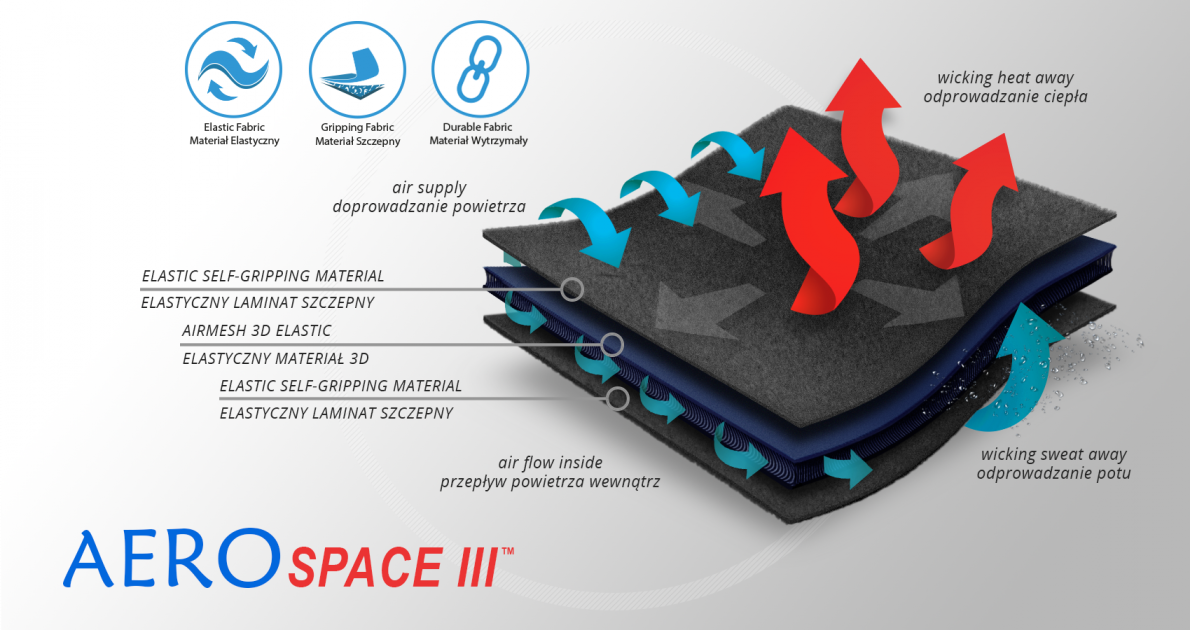 Available sizes
Size
Arm circumference
Typical age
How to measure
1
13 – 20 cm
2 – 6 years
2
20 – 26 cm
>6 lat
Fits for both hands.
Total length of the product:
1: 17 cm
2: 22 cm

Downloads
ON OUR WEBSITE WE PRESENT MEDICAL DEVICES.
USE THEM ACCORDING TO THE INSTRUCTIONS FOR USE OR LABEL.
MANUFACTURER / ADVERTISING ENTITY: REH4MAT SŁAWOMIR WROŃSKI