| | |
| --- | --- |
| | UPPER LIMB BRACE |
| | 1st CLASS MEDICAL PRODUCT |
| | BREATHABLE |
| | UNIVERSAL SIZE |
| | DOUBLE-SIDED |
| | FULL RANGE OF ADJUSTMENT |
Shoulder injuries
Shoulder injury patterns in children and younger patients are far different from adults because of skeletal immaturity. The open growth plates of children and adolescents make them particularly vulnerable to injuries. If the growth plates are fractured, it requires special surgical techniques to treat them. The shoulder of human is made up of three important bones: the scapula (shoulder blade), the clavicle (collarbone), and the humerus (upper arm bone). The shoulder joint offers high mobility but is only stabilizes by soft tissues such as: tendons, ligaments and articular capsule. High mobility provides mobility to the joint, but exposes it to a large number of injuries.
Fortunately, soft tissues and bone heal relatively quickly in children, so most often surgery is unnecessary, and immobilization and physiotherapy are the preferred treatment for shoulder injury. For this purpose, our pediatric shoulder brace FIX-KG-21 offering rotation 15°, 25° and 45° will work perfectly.
Purpose of use
– shoulder subluxation
– shoulder dislocation
– Little League shoulder
– shoulder instability
– the glenoid labrum injury
– shoulder surgery
– in conservative treatment (rotator cuff inflammation, shoulder subluxation or dislocation, humerus fracture)
Product's description
Pediatric shoulder brace FIX-KG-21 is a high quality medical product. The brace is equipped with 2 cushions providing smooth shoulder rotation.
Depending on the way of using, our pediatric shoulder brace FIX-KG-21 provides 3 degrees of internal rotation: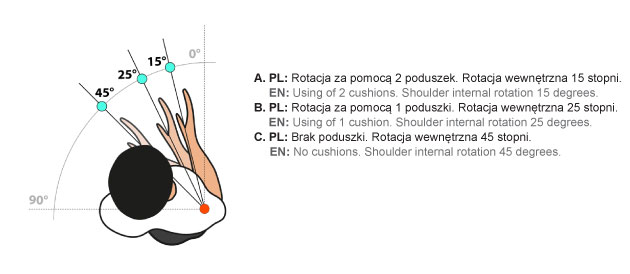 Pediatric shoulder brace FIX-KG-21 consists of 3 elements:
Waist strap for comfort of use and safety. Arm strap prevents against involuntary arm abduction.
Two rotational cushions offering smooth rotation in 25 and 25 degrees. No cushions using means arm rotation in 45 degrees like in the regular arm sling.
Arm sling for proper upper extremity position. Anatomic shaped hand strap maintains the hand in the midline and prevents against wrist painful syndrome. It is equipped with neck off pressure pad and quick release buckle.
The shoulder brace is made of innovative fabrics ActiveDistance™ and SoftComfort™.
Arm sling keeps the upper extremity in the therapeutic position and is equipped with soft neck padding for reducing the pressure and skin lesions. The neck padding is made of comfort fabric so-called VelvetCotton™.
ActiveDistance™ is an technical off-loading lamination with 3-layered construction. It's made of EVA foam double-sided laminated with non-elastic polyamide layer that is easy to attach. This self-gripping function of ActiveDistance™ provides wide range of adjustment and perfect fitting. What is important, ActiveDistance™ is non-elastic fabric so it stabilizes your body in a perfect way. Thanks to using the comfort foam, the device is really soft what influences on the comfort of using it. Waterproof material.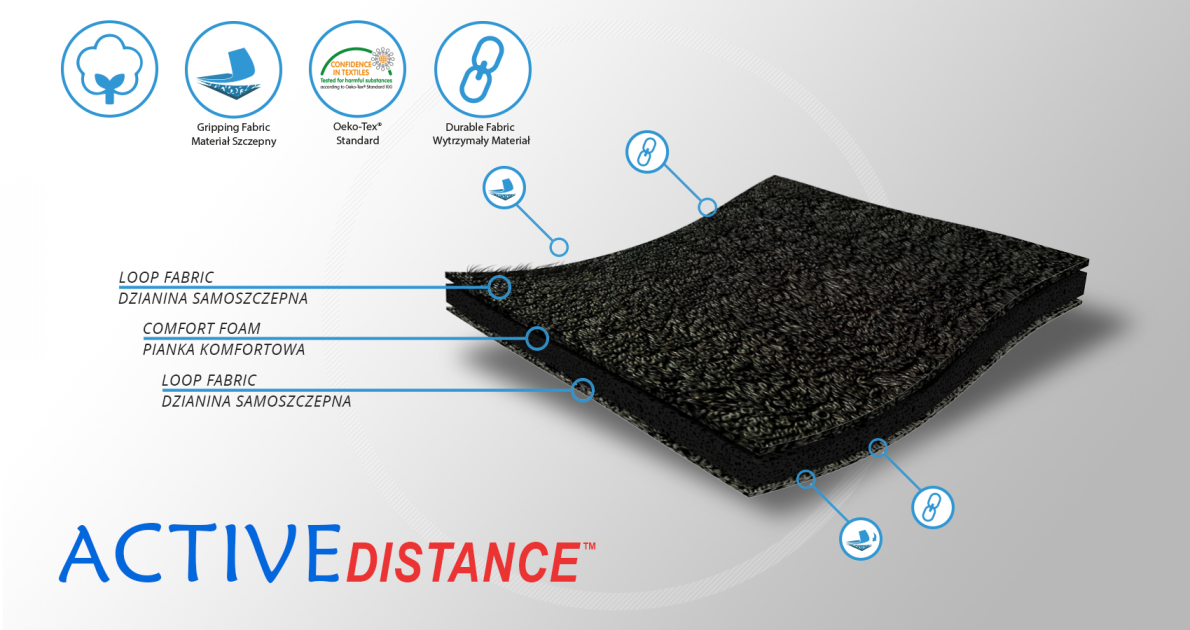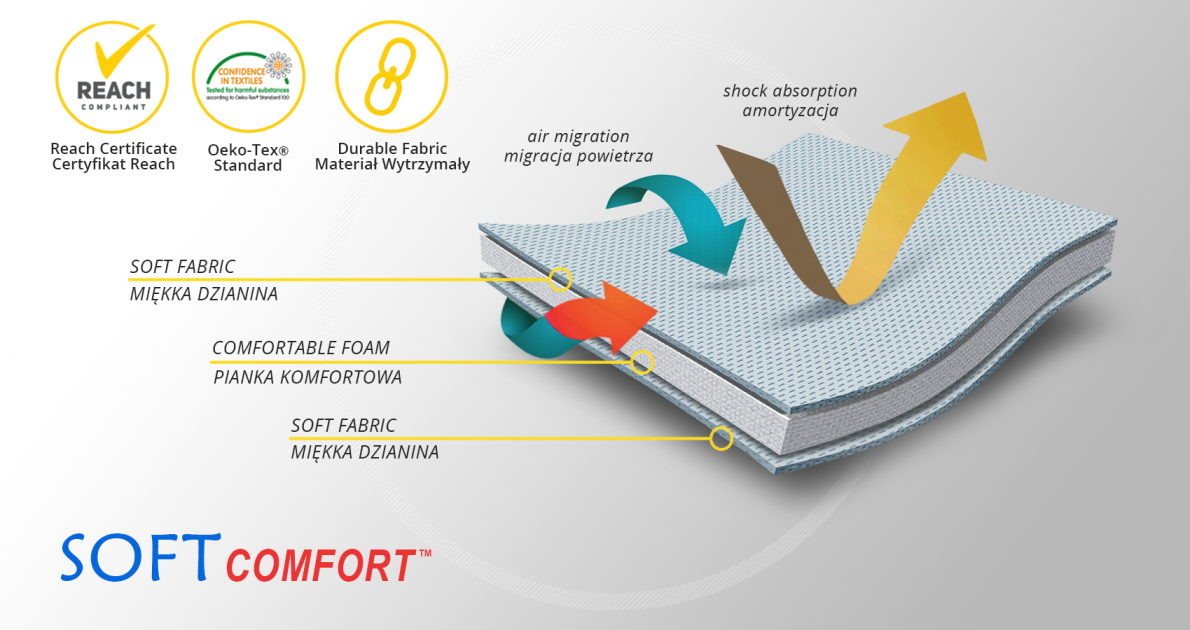 SoftComfort™ - a material specially designed to relieve very delicate places on the patient's body. The cover knit used in the production is made in such a way that it can come into contact with very sensitive skin. This raw material has the Oeko-Tex Standard 100 certificate and complies with the European REACH standard. The structure of the material consists of a very soft comfort foam laminated with a delicate cover knit. The fabric has a perforation that facilitates the flow of air through the material and allows the skin to breathe. The SoftComfort™ material is perfect for the production of linings relieving the rigid and inflexible elements of orthopedic orthoses.
VelvetCotton™ is a skin-friendly material based primarily on pure cotton. The material is the basis for many medical accessories, such as orthopedic pillows, which make them comfortable and completely safe for the patient. VelvetCotton™ is also used in some products from our collection for children, because we are aware that the skin of young patients requires special protection. This knitwear is an excellent alternative to ordinary polyester fabrics available on the market. VelvetCotton™ is characterized by softness, fluffiness and high flexibility, which makes the product highly comfortable to use. The natural composition of the knitted fabric is responsible for maintaining the proper skin climate and for the effective wicking sweat away. VelvetCotton™ has the Oeko-Tex Standard 100 certificate, which confirms its safety for the skin. The material can be cleaned many times without the risk of losing flexibility, and its structure guarantees high durability and resistance.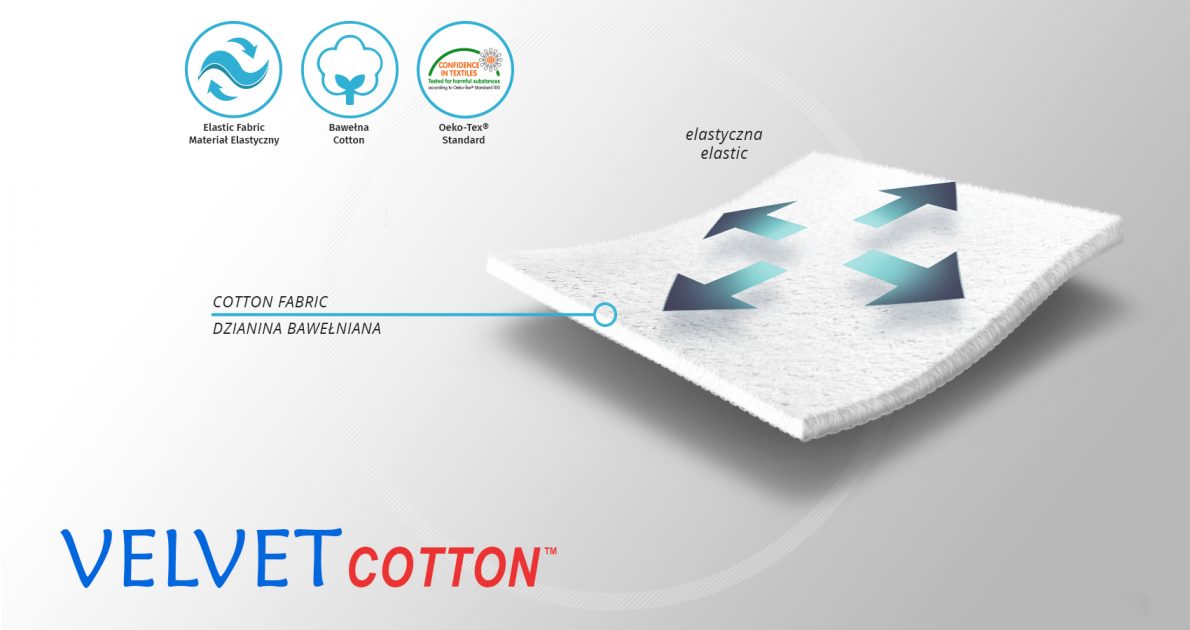 One size Pediatric Shoulder Immobilizer FIX-KG-21 offers upper extremity immobilization and with therapeutic shoulder rotation. The product immobilizes their collarbone region and protects against damaging movements. This helps ease your child's pain and gives their injury a chance to heal.
Shoulder immobilization helps the soft tissues to recover and improves healing. This solution limits pain and discomfort.
Our Pediatric Shoulder Immobilizer FIX-KG-21 is made of special, skin friendly fabrics perfect for young users. The materials and breathable and do not cause any skin's irritation or lesions.
Due to the fact that our fabric is easy to attach, our shoulder brace is available in one size. Thanks to innovative design, our Pediatric Shoulder Immobilizer FIX-KG-21 fits for both upper extremities.
What is more, our sling is equipped with thumb loop which keeps the limb in one position and prevents against its sliding.
Our Pediatric Shoulder Immobilizer FIX-KG-21 is advanced product which provides smooth adjustment of internal rotation in 15°, 25° and 45°. Our product keeps the head of the humerus in the glenoid fossa of scapula precisely, reduces the pain and improves healing.
Available sizes
| Size | Arm circumference (A) | The circumference of the chest at the height of the xiphoid appendix (B) | How to measure |
| --- | --- | --- | --- |
| Universal | 15 – 25 cm | 50 – 75 cm | |
Downloads