FIX-KG-22
PEDIATRIC SHOULDER HUMERAL FRACTURE BRACE
Pediatric arm splint FIX-KG-22 is lightweight, comfortable product offering professional humerus immobilization. The brace provides the highest level of stabilization but is much more friendly for kids than traditional, heavy cast.
| | |
| --- | --- |
| | SHOULDER BRACE |
| | 1st CLASS MEDICAL PRODUCT |
| | CAST REPLACEMENT |
| | INNOVATIVE |
| | RECOMMENDED BY SPECIALISTS |
| | DOUBLE-SIDED |
| | FULL RANGE OF ADJUSTMENT |
| | SKIN FRIENDLY |
Purpose of use
humeral fractures
injuries in the humeral area requiring immobilization
Humeral fracture
A humerus fracture is a break of the humerus bone. The fracture may be near the shoulder and elbow or towards the middle of the fracture bone which is called shaft fracture. This kind of fracture is quite common among children. It's due to high kid's activity and occurs usually after a fall. Each type of humerus fracture requires professional stabilization. Our paediatric shoulder humeral fracture brace FIX-KG-22 was created for this purpose.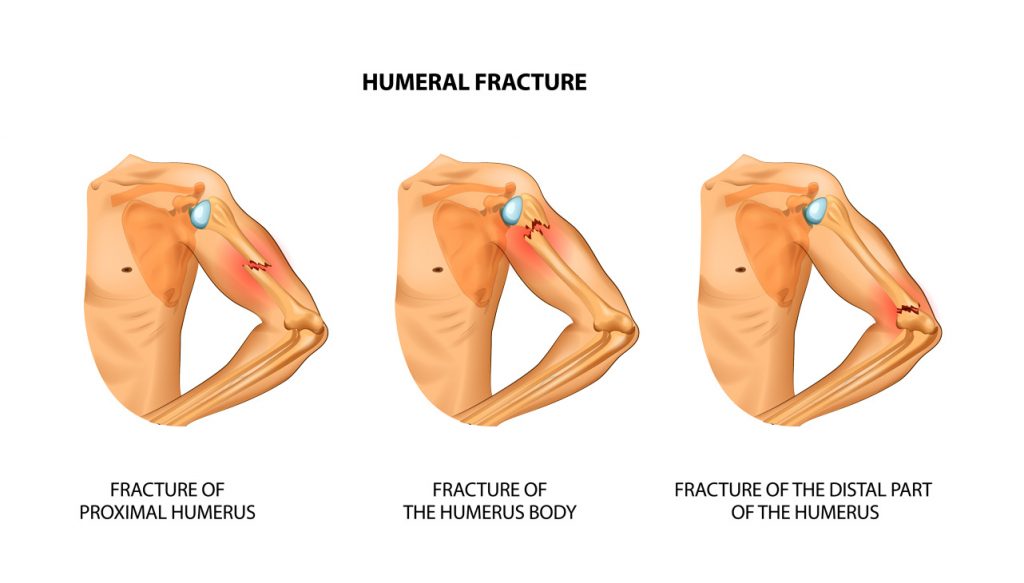 Product's description
Shoulder humeral fracture brace FIX-KG-22 is made of shoulder shells, made of lightweight ABS, inner soft fabrics and circumferential strap. Our arm shells are perforated for cooling airflow.
Shoulder shells are anatomic-shaped 3D orthopedic system made of low profile ABS which maintains the shape of user's body. The system consists of external and internal arm shell. The shells are equipped with swivel buckles and cut-outs for circumferential straps. The shells have Velcro fasteners on the inside, where you can attach soft pressure relief cushions 3D.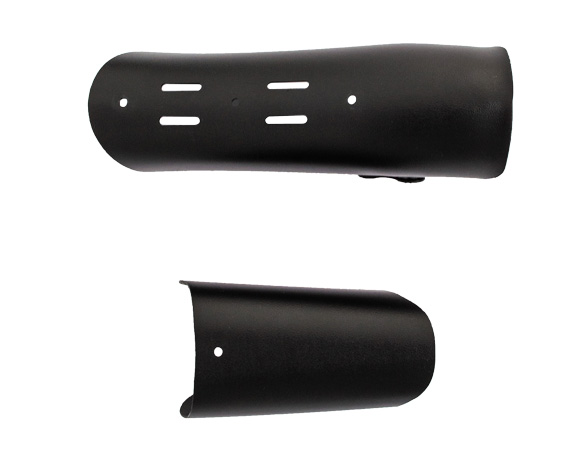 Shoulder shells cover humeral bone and glenohumeral joint. They maintain anatomic shaped of the user and offer professional immobilization. Lightweight fabrics make our pediatric arm brace FIX-KG-22 very comfortable for children.
The shells are covered soft, skin-friendly thermoformated fabric Active3D™ on the inside.
Active3D™ is thermoformed fabric made of special foamed, cell-closed designed material. It reduces the pressure on the body or any abrasions made by orthopaedic stays and aluminum splints. It is fully waterproof fabric and does not absorb sweat. It's easy to clean. Due to its features, the fabric is an excellent product for making medical orthopaedic braces and orthoses. ACTIVE 3D™ has various external self-gripping layers. Our material has special, thermoformed properties and may be shaped according to the functional goals of the final braces.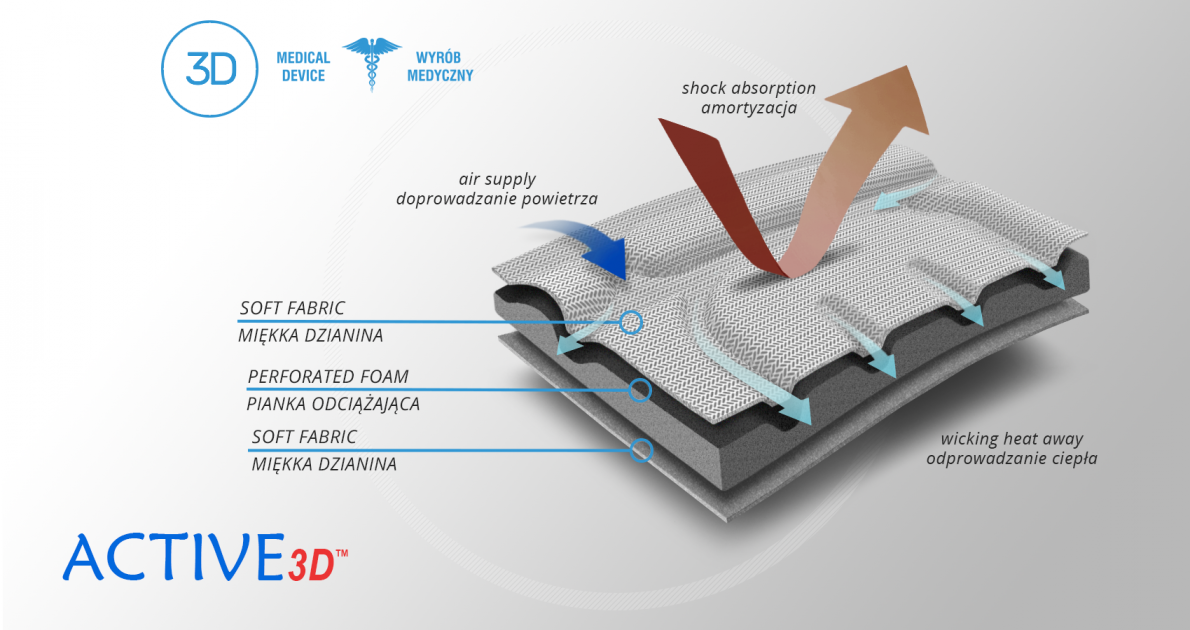 The circumferential chest strap, which is attached to the shells, goes around the kid's chest and provides perfect stability. It is made of soft fabric and offers wide range of circumferential adjustment. In addition, it's covered with armpit soft pressure relief cushion which improves comfort of use.
The pressure relief cushion is made of skin-friendly soft material SoftComfort™.
SoftComfort™ - a material specially designed to relieve very delicate places on the patient's body. The cover knit used in the production is made in such a way that it can come into contact with very sensitive skin. This raw material has the Oeko-Tex Standard 100 certificate and complies with the European REACH standard. The structure of the material consists of a very soft comfort foam laminated with a delicate cover knit. The fabric has a perforation that facilitates the flow of air through the material and allows the skin to breathe. The SoftComfort™ material is perfect for the production of linings relieving the rigid and inflexible elements of orthopedic orthoses.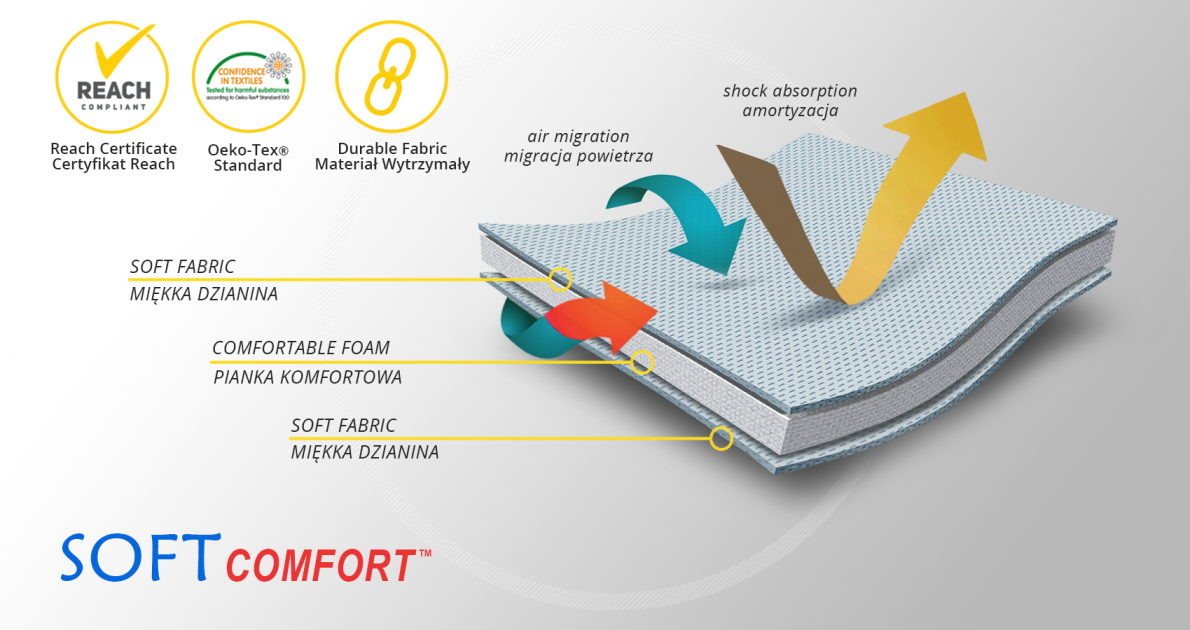 Paediatric shoulder humeral fracture brace FIX-KG-22 offers perfect immobilization in case of humeral injuries. The product provides soft tissue compression while preventing any distal migration. Due to this fact, it's much better solution for fracture management than traditional cast. System of Velcro closures offer safe and easy fitting.
Innovative design allows to use one brace for both, right and left, arm.
Available sizes
Size
Arm circumference (A)
The circumference of the chest at the height of the xiphoid appendix (B)
How to measure
1
19 – 23 cm
max 85 cm
2
23 – 37 cm
max 95 cm
Universal product for the right and left hand.
ON OUR WEBSITE WE PRESENT MEDICAL DEVICES.
USE THEM ACCORDING TO THE INSTRUCTIONS FOR USE OR LABEL.
MANUFACTURER / ADVERTISING ENTITY: REH4MAT SŁAWOMIR WROŃSKI